On December 13, Professor David R. Nelson at Harvard University visited the University of Chinese Academy of Sciences (UCAS) at Yuquan Campus and the Kavli Institute for Theoretical Sciences (Kavli ITS) at the Zhong-Guan-Cun campus.
David R. Nelson is Authur K. Solomon Professor of Biophysics and Professor of Physics and Applied Physics at Harvard University. He is also a member of the National Academy of Sciences, the American Academy of Arts and Sciences and a Fellow of the American Physical Society. Professor Nelson is the receipient of MacArthur Prize Fellowship, the Bardeen Prize and the Buckley Prize, etc.
Prof. Nelson joined a lunch meeting with UCAS faculty members and student representatives at Yuquan campus at noon, accompanied by Professor Fu-Chun Zhang, Director of Kavli ITS. Prof. Nelson shared his opinions on the most-concerned questions such as "how to choose a direction or field in physics", "what is and how to deal with interdisciplinary research fields", "what is the interrelationship between biology and physics", "what are the differences between mid-Euro and the USA when applying Ph.D. programs" and "what the futures will be for Harvard physics graduates", etc.
In the afternoon, Prof. Nelson visited Kavli ITS at Zhong-Guan-Cun campus and met with Kavli ITS faculty members and students. Prof. Fu-Chun Zhang introduced the institute and recent academic activities. Prof. Nelson then exchanged his ideas on the detailed issues at the meeting.
After the meeting, Prof. Nelson gave a public lecture titled "Localization in Biological Networks", which attracted audiences from the Institute of Theoretical Physics (ITP, CAS), Institute of Physics (IOP, CAS), UCAS and other universities.
Professor Nelson (3rd from left) at the meeting
Prof. Nelson exchange ideas with UCAS students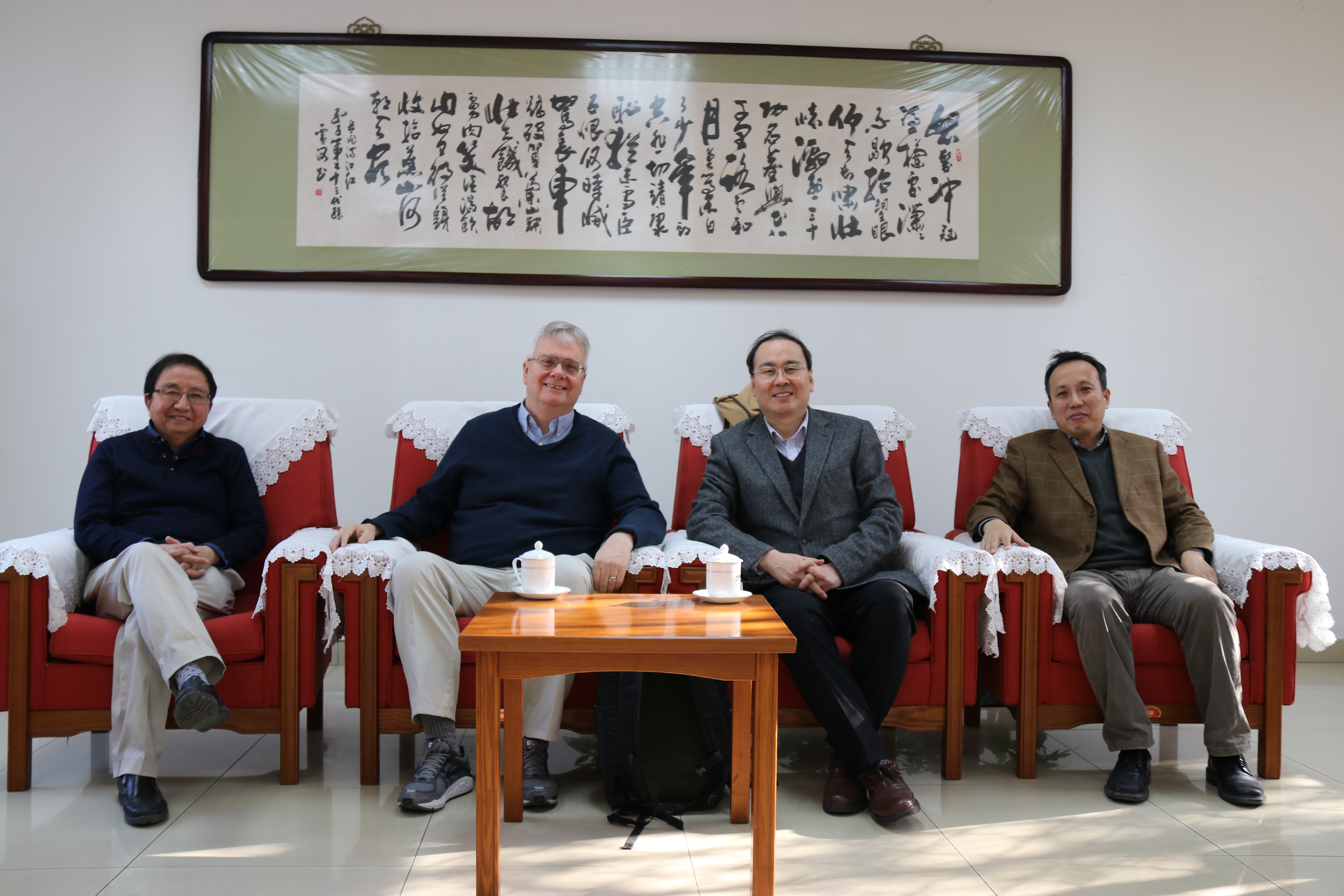 From Left: Fu-Chun Zhang (Director of Kavli ITS), David R. Nelson (Harvard University)
Gang Su (Associate Director of Kavli ITS, VP of UCAS), Xiao-Song Chen (Associate Director of Kavli ITS, VP of ITP, CAS)
Photo Courtesy by: Shuai Wang (School of Physics, UCAS)